Salesforce Einstein is the World's smartest CRM (Customer Relationship Management) powered by Artificial Intelligence (AI). It discovers salesforce organisation most important business insights and predicts what will happen next. Based on Salesforce Einstein recommendations, action will be taken and ultimately automates certain tasks to free up Salesforce Customer time.
What is Salesforce Einstein?
Salesforce Einstein is a layer within the Salesforce platform that infuses Artificial Intelligence(AI) features and capabilities across all Salesforce Clouds. Einstein takes care of the data prep, modeling, and infrastructure needed to embed and scale predictive models throughout your Salesforce workflows.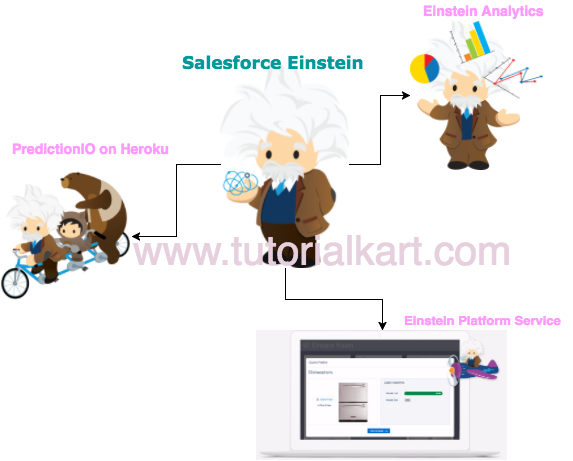 Salesforce Einstein Vision.
Salesforce.com has recently released add-ons for image recognition for Heroku. Salesforce Einstein Vision enables you to tap into the power of Artificial Intelligence (AI) and train deep learning models to recognize and classify images at scale. Image recognition can be very helpful for marketers, sales, and Service Cloud Users. Image recognition can reduce a lot of manual tasks for the retail industry, such as counting inventory, providing visual search to the customers, and helping the customers to remotely evaluate product issues. 
Salesforce Einstein data Discovery.
SFDC Einstein Data Discovery platform uses Natural Language Processing (NLP) and machine learning to generate stories that are exported to the CSV or Salesforce Analytics Cloud. To discover insights from huge volume datasets, organizations required data scientists who could then apply mathematical models to discover hidden insights from data. Using Einstein Data Discovery product, one can analyze millions of dataset combinations in minutes.
Salesforce Einstein features.
Salesforce Einstein feature must be enabled in Salesforce and assign to the users. Some of the Salesforce Einstein feature are.
Discover: Insights that bring new clarity about your company's customers.
Predict: Outcomes so your users can make decisions with confidence.
Recommend: The best actions to make the most out of every engagement.
Automate: Streamlined tasks that let your users focus on customer success.