In this SAP BW Tutorial, you will learn how to create flat file source system in SAP BW step by step using transaction code "RSA13"
How to create Flat file source system in SAP
With help of Flat file source system, you can load any type of flat file in to SAP BW system. For e.g. You can upload Microsoft excel file in to SAP BW from local sources.
Step 1 : Execute transaction code "RSA13" in command field from SAP easy access screen.

Step 2 : On Data warehousing Workbench: Modelling, it displays the source system screen with different source system that has been created. To create flat file source system, from source systems header screen click on right mouse button and choose create option.
Step 3 : System displays the list of source system type that the SAP BW supports, as we are creating flat file source system choose the option File System (Manual Metadata, Data using file Interface) and click on green check option.
Step 4 : A pop up window create source system opens, update the following details.
Logical System Name : Update the logical system name as per the requirements of project. You can specify name of logical system as TKS_DB.
Source System Name : Update the name of source system.
After updating details of logical system name and source system name, press enter to continue
Step 5 : Now you can check the created flat file source system by expanding the file folder.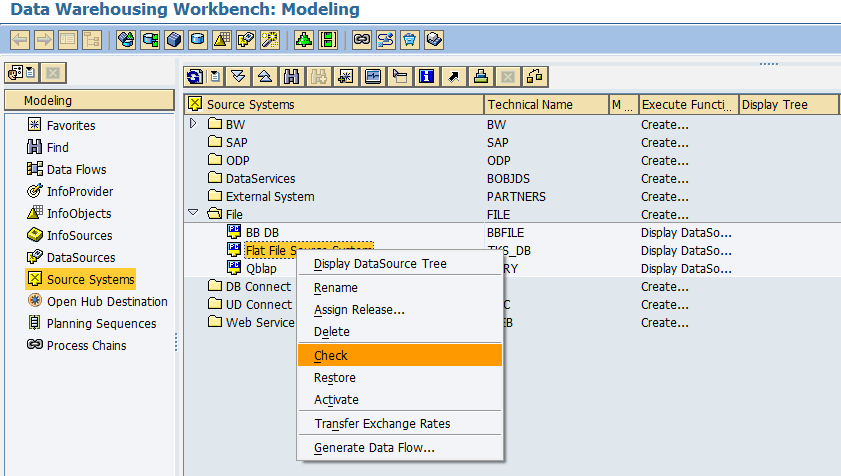 To verify the created flat file source system is connected successfully or not, on flat file source system click on right button from mouse and click on check option.
Now system displays message as "Source System connection TKS_DB OK.

Successfully we have created flat file source systems in SAP BW.