In this SAP BW Tutorial, you will learn how to create an Infoarea in SAP using transaction code RSA14.
How to Create Infoarea in SAP BW
In SAP BW, Info areas helps to organize Infocubes and Info Objects. InfoArea is a directory that is used to organize info objects and info providers and every infocube is assigned to an Infoarea. Through InfoObject catalog, each InfoObject is assigned to an InfoArea.
You can create InfoArea in SAP BW at two functions i.e.
At InfoObjects
At InfoProvider
Step 1 : Execute transaction code "RSA14" in command field from SAP easy access screen.

Step 2 : From data Warehousing Workbench: Modeling screen, navigate to Modeling > Choose InfoObject root node and form context menu make right click and choose create Info Area.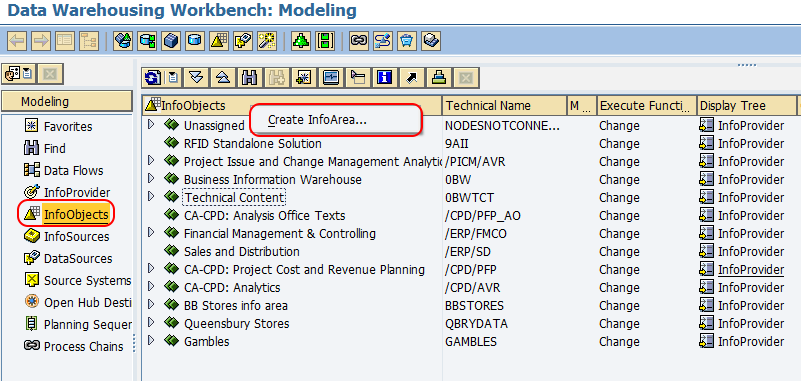 Step 3 : On create InfoArea screen, update the following details
InfoArea : Enter the name of Info Area that identifies as InfoArea in SAP BW.
Long Description : Update the descriptive text of an Info Area.
After enter the details, press enter to continue.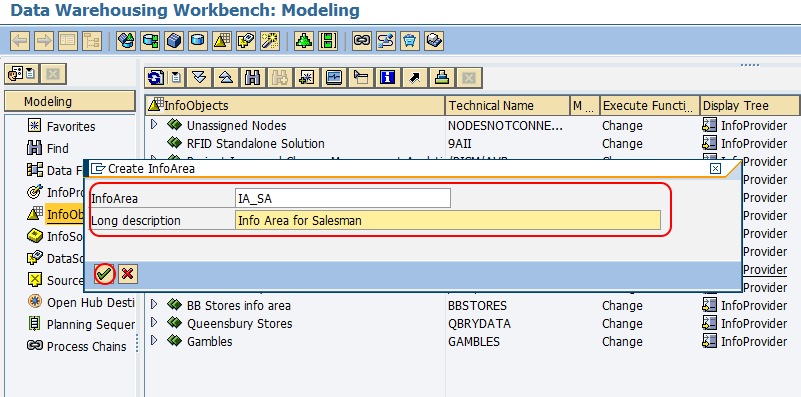 Successfully Info Area IA_SA (Info Area for Salesman) has been created in SAP BW.