What is Client in SAP
SAP Client is the highest hierarchical organizational unit within an SAP system that contains master records and tables. The transactions processed at SAP client level is valid and applicable for all company code data and enterprise structures.Client is a three digits numerical key and from a business point of view, client represents as a corporate group. User is required to enter client key while logging on to the SAP system.
Important Client Characteristics
Every SAP user's access and authorizations must assigned to the SAP client on which client users are working.
It is used to differentiate between development, quality and product system within the same or different server
The data entered at client level is valid for all organizational units.
Each client can have one or more company codes, plants and locations but there will be not have connection between clients.
SAP delivers three standard clients i.e.
000
001
066
How to create new SAP client
You can create new clients as per the organizational requirements in SAP Basis by using transaction code SCC4.
Step 1: – Enter SAP Tcode "SCC4" in the SAP command field and enter.

Step 2: – On display view "Clients" overview screen, click on display >> change icon.

Step 3: – Now click on new entries button for creation of new SAP client as per requirements.

Step 4: – On new entries clients overview screen, update the following details.
Client: – Enter the 3 digits numerical key for creation of new SAP client and its description.
Update city name to which client belongs to
Update the logical system id that the client refers to.
Update the std currency
Choose the client role from the list (i.e. production, Test, Customizing, Demo, Training/Education, Sap reference).
Under changes and transports for client specific object, choose appropriate option as per requirements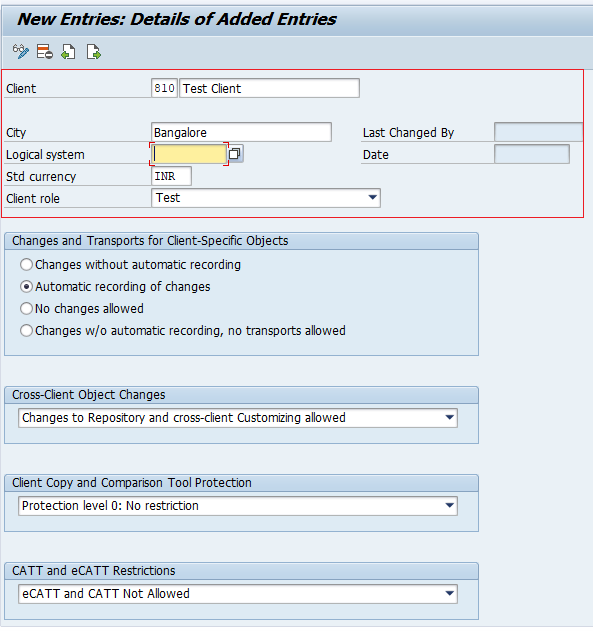 After maintaining all the required details, click on save button and save the configured new SAP client.