Tutorialkart.com provides free tutorials, free online training and reference materials with realtime examples for Apache Spark, Salesforce, Apache OpenNLP, Apache FLINK, Apache MXNet, Machine Learning, Kotlin, Kotlin Android, PDFbox, Python, Tex Commands, Agile Testing, Apache Tajo, C++ Library, MariaDB, SAP QM, SAP SOLMAN, SAP MM, MS Access, KoaJS, OAuth2.0, Scrapy, SAP FICO, SAP PS, SAPUI5, Cognos, Trampolining, Golf, Angular2, Framework7, Arduino, CherryPy, Firebase, SAP C4C, SAP CRM, SAP PP, ExpressJS, Design Thinking, Internet Security, PyGTK, Apache Drill,  Computer Security, Extreme Programming, FastText NLP, Conversion Rate Optimization, SAP IM, Business Law, Kanban, Erlang, SAP Payroll, ASP.Net WP, PouchDB, MFC, SAP HR, Yii, Clojure, Aurelia, CoffeeScript, CPanel, Laravel, SAP Webi, MS SQL Server, Spring JDBC, Java, Gerrit, Spring AOP, Spring MVC,Teradata and many more tutorial.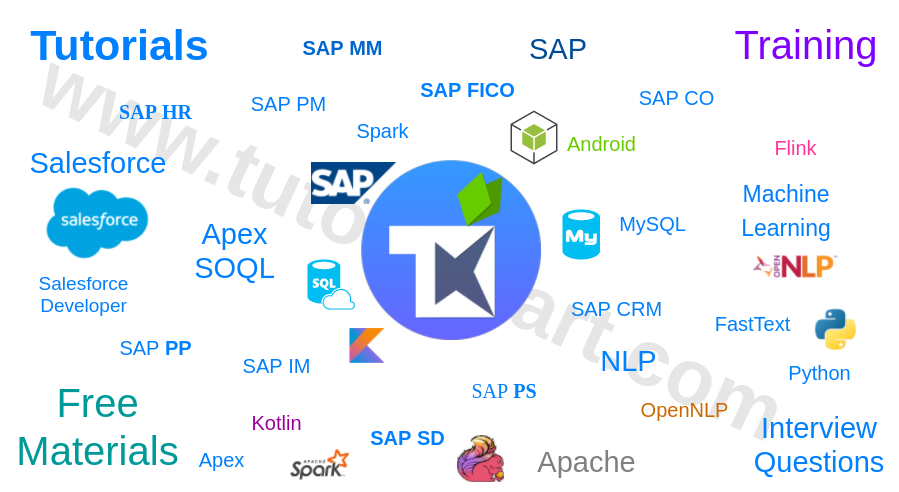 Tutorialkart.com provides live projects on programming languages, CRM Softwares, Databases and ERP. Every online tutorial provided in tutorialkart.com are free tutorials and can download their reference materials. Free video tutorial on programming will be made available very soon. Every lesson and concept in the course are developed for beginners and advanced programming skilled students. Subscribes user's can get Interview Questions, material download in PDf for every course for free. Online video tutorials available in youtube.com.
Tutorialkart – Online free Training, Best Online Tutorials
Welcome to Salesforce.com, Whether you are admin,user or a developer everyone will think about what is the best way to learn Salesforce? How to learn Salesforce? We Tutorialkart.com will provide a broad, high level view of the Force.com platform with all of the information you need to get started. This is the fun way for students to learn Salesforce with real time examples with screenshots. Here every Salesforce Tutorial is explained . To improve your Salesforce.com skills we recommend everyone to follow our Salesforce admin Tutorials and Salesforce Developer Tutorials.
If you want to learn computer programming language, then tutorialkart.com is the best  place where every Tutorials provided here are easy and point to point learning of various tutorials such as Java Tutorial, Core Java Tutorial, Android, Design Pattern, JavaScript, AJAX, Apache Flink and many more. Every study material and Java tutorials are absolutely free. Tutorialkart.com is a great website which provide good content for all computer user or programmers. We provide programming language tutorials, interview questions, quizzes.
Welcome to SAP Tutorials. Students who are interested in free SAP Training and SAP Materials can check at www.tutorialkart.com. Here every Sap Tutorial topic is well designed for beginners and advanced students. We suggest every candidate to refer our Free Sap Tutorials as a regular course to understand all topics. Our team will update  latest Tutorials for FICO module,  ABAP,  SAP MM, SAP SD, SAP HCM, SAP PS, SAP Basis, HCM module, SAP Security, SAP PP and Interview Questions with Answer will be provided.
Python is a powerful high-level, interpreted, interactive and object-oriented programming language created by Guido van Rossum between 1985 – 1990. This Python language is simple and is designed for first time Computer Programming learning users. Here In Phyton training tutorials we provide complete guide for beginners why this Phyton Language should be learned and how can you learn?
Apache OpenNLP is an open-source library that provides solutions to some of the Natural Language Processing tasks through its APIs and command line tools. Apache OpenNLP uses machine learning approach for the tasks of processing natural language. Here we learn about different tasks in Natural Language Processing and the solutions provided through Apache OpenNLP APIs to solve them with some tasks.
Welcome to Kotlin Tutorials. The topics that are covered in these Kotlin tutorial are designed to understand the basics and little advanced programming concepts with ease. Having a knowledge of Java Programming would make learning Kotlin easy. These Kotlin Tutorials are also designed for someone without a Java background could follow. Comparison to Java Programming concepts have been made to understand through analogy.