What is ERP? explained everything about an ERP software systems.
What is ERP
ERP stands for Enterprise Resource Planning.
ERP is a plan for planning and Monitoring all the resources of a business organization.
ERP (Enterprise Resource Planning) is a business software that enables to integrates all the core business process of an organization into single system in real time basis to manage day to day business transactions.
ERP systems support business or enterprise throughout the optimizing, planning maintaining, tracking and reporting of resources.
Simplest ERP definition
ERP defines the planning in all departments of an organization, and success of an organization depends upon planning in all departments of particular organization such as Sales, Finance, Production, HR, etc and that will be specified in ERP package.
ERP software helps in integration of all this departments (Sales, Finance, HR, Production) into a single system.
History and Evaluation of ERP Systems
ERP system took years to emerge and constantly evolving.
In 1970's manufacturing chain was the center of business operations and it leads to the development of Material Requirement Planning (MRP) systems.
In 1980's, it mainly focuses on quality measures, and it leads to evaluation of MRP-II systems.
In 1990's, an integration of core systems across their internal enterprise and this leads to evaluation of ERP systems.
In 2000's the first-generation ERP extended into inter organizational systems for e-business operations.
Why ERP
ERP has become standard for software for every medium and large companies.
ERP solutions helps to overcome most challenges and problems in an organization
The implementation of an ERP system enables business to manage the resources and helps to increase productivity of business.
Components of ERP
The important components of ERP systems are
Sales & Marketing
Master Scheduling
Material Requirement Planning (MRP)
Capacity Requirement Planning (CRP)
Bill of Materials (BOM)
Purchasing
Shop floor control
Accounts Payable (AP) & Accounts Receivable (AR)
Logistics
Asset Management (AM)
Financial Accounting (FM)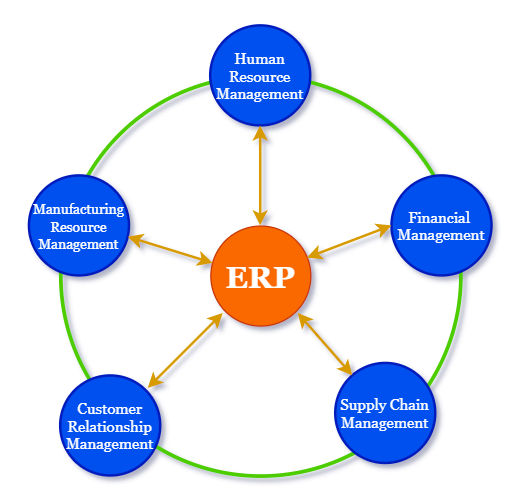 Features of ERP
The main feature of ERP is reducing inventory, shorting cycle times, lowering costs and improving supply chain management process. The other important features of ERP system are
ERP systems are designed to integrate all the components of ERP.
It increases speed of information flow throughout the company.
All the theses features of ERP system enables better organization planning, communication, reporting and high positive results.
Advantages of ERP for Business
The implementing an ERP for business has both pros and cons, the major advantages of ERP systems are
It enables automation enhances productivity
Rapid responsive time
Increase overall performance
Integration across the entire supply chain.
People in different departments can access only one source data.
Implementation of ERP
The implementation of an ERP software supports the profitable growth in an organization throughout efficient handling of business service. A successful implementing an ERP, it helps in
Customers are able to procure goods & services through various channels
Product and services are manufactured, sourced and created at effective cost with quality as per standard of business.
Every single transaction is recorded and controlled.
Top ERP Softwares
SAP: SAP (Systems, Applications and Products in Data Processing) is an ERP (Enterprise Resource Planning) application by SAP AG, German based company founded in 1972. SAP is the fourth largest ERP software in the world. ERP SAP provided end to end business solutions for Manufacturing, Distribution, Financials, Logistics, etc. It is a business software package and all modules in SAP can be integrated each other. The important modules in ERP SAP are Financial Accounting, Controlling, Materials Management, Sales and Distribution, Human Capital Management, Quality Management, ABAP, etc.
Oracle E-business Suite: – Oracle E-business suite (EBS) is an ERP product of Oracle corporation and was developed in the year 1980. It is also called as Oracle applications. Oracle EBS is a software package that consists global business applications with built in integrity. It is offering all the business flows that are widely used in organization. The important products offered by ERP EBS are financials, Human capital management, manufacturing management, logistics, Oder management, procurement, etc.
Microsoft Dynamics 365: Microsoft Dynamics is an ERP application, and it was developed in the year 2016. Microsoft Dynamics 365 is a set of applications provides solution for business systems and the important applications that offering by Dynamics are Sales, Services, Marketing, Finance and operations, etc.
Tally.ERP 9: Tally is an ERP accounting software and it was found in 1960's. Tally is India's leading accounting software with the features of payroll, inventory, point of sales, GST, etc. It is used to record all the financial transaction of industries and prepare statements per requirements. It also supports all major language for generating the invoices in local languages. Tall is now using by all small to large scale industries to maintain accounting transactions.