In SAP PM Tutorial, you learn how to create order types for maintenance in SAP using transaction code OIOA.
How to create maintenance order types in SAP PM
In this activity you create maintenance order type in SAP used for routing and process of order is to be done in costing.
Navigation
You can define maintenance order types in SAP by using the following navigation method.
| | |
| --- | --- |
| Transaction Code | OIOA |
| SAP IMG Path | SPRO > IMG > Plant Maintenance & Customer Service > Maintenance Service Processing > Maintenance and Service Order > Functions and Settings for Order types > Configure order types. |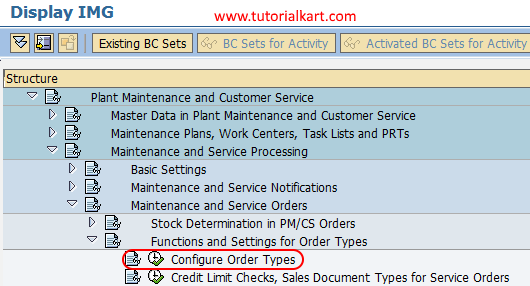 Configuration steps
Perform the following configuration steps to configure order types in SAP plant maintenance module.
Step 1 : Execute t-code OIOA in command field from SAP easy access screen.

Step 2 : On change view maintenance order types overview screen, choose new entries button to create the new the order types as per requirements of an organization.

Step 3 : On new entries of order types overview screen, update the following details.
Order Category : – Order category filed will be updated automatically by SAP system.
Order type : Update the 4 digits key that defines as order types for maintenance, and update the descriptive text of an order type.
Settlement Profile : Update the settlement profile with the key 40 (Maintenance Order).
Budget Profile : Choose the appropriate budget profile key from drop down list.
Screen Object : Choose the screen object key by choosing drop down list.
After maintaining all the required details for order types, choose save icon and save the configured details.
Successfully we have created order types for maintenance in SAP PM.