Purchase Organization is the highest level of organizational unit in SAP MM, it is responsible for procurement of materials and services from an external vendor or internal plant. The different types of purchasing organizations in SAP are
Plant specific or local purchase organization
Cross plant purchase organization
Cross company code purchase organization
Central purchase organization at company code level.
Reference Purchase organization
Standard purchase organization
One purchasing organization can be assigned to only one company code, but one company code can have one or more purchase organizations in SAP.Cross company code purchase organization can be assigned at plant level only.
How to create purchase organization in SAP
In this SAP MM tutorials, you will learn how to define purchase organizations in SAP step by step.
| | |
| --- | --- |
| Purch.Organization | Description |
| TKPO | TK Software Purchase Organization |
You can maintain purchase organization in sap by using one of the following navigation method.
Transaction code: – OX08
Menu Path: – SPRO -> SAP Customizing Implementation Guide –> Enterprise Structure -> Definition –> Materials Management -> Maintain Purchase Organization.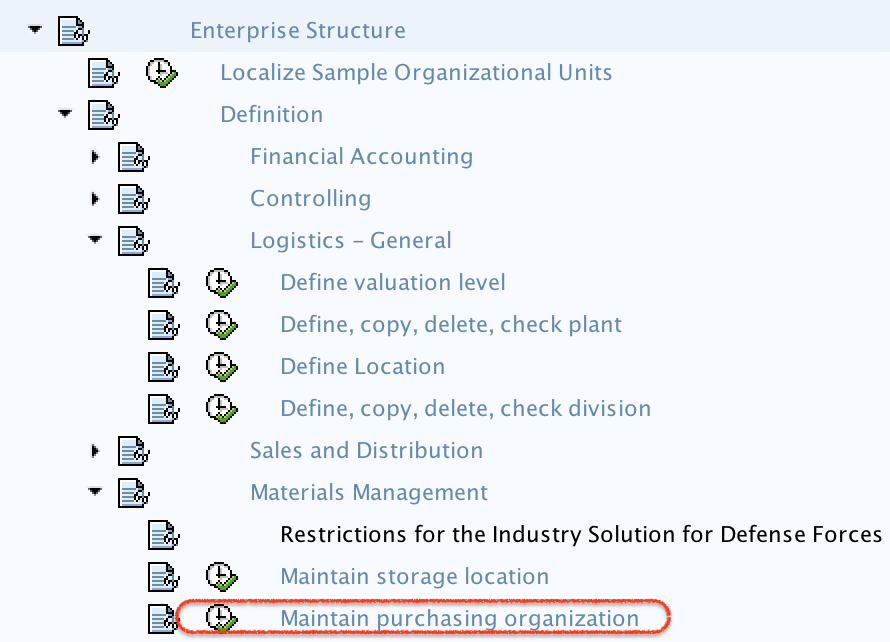 Step 1) Enter T_code "OX08" in command field and enter.

Step 2) On change view purchase organizations overview screen, click on new entries button to define new purchase organization as per company requirements.

Step 3) On new entries purchasing organization screen, update the following details.
Purch.Organization: – Enter the key that identifies the purchase organization in SAP.
Purch.Org.Descr: – Update the detailed description of purchase organization.

Step 4) After creating the purchase organization as per the company requirement, click on save button.

Now choose the customizing request and click on continue option to save the configured organization data.

Successfully we have created purchase organization in SAP systems.