This tutorial explains step by step procedure to maintain user parameters in SAP using tcode SU52.
How to maintain user parameters in SAP
In SAP HR, we are going to maintain the two user parameters for maintaining the consistency IMG configuration.
Country Grouping
User Grouping
Country grouping : – With country grouping key, you can maintain separate configuration from one country to another.
For e.g. India – 40, US – 10.
User grouping : – Grouping of similar business process with the country grouping for avoiding the duplication and handling authorization very effectively.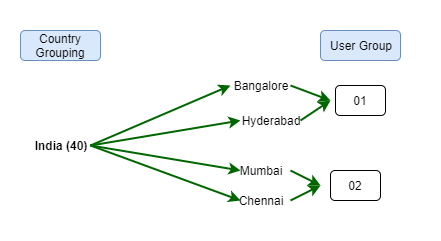 Note : – In real time project scenario, generally we come across one country grouping and one user grouping only. For e.g. India country grouping key 40, India user group 40 because most of companies maintain HR policies at country level.
Configuration steps
Refer below step by step procedure for maintaining user parameters in SAP.
Navigation
| | |
| --- | --- |
| SAP R/3 Role Menu | Define user parameters |
| Transaction Code | SU2 / SU52 |
| SAP Path | SPRO => IMG -> Personnel Management => Personnel Administration -> Basic settings => Maintain user parameters |
Note : – Here we have hidden SAP user id and user name for security purposes, please note accordingly.
Step 1 : – Execute tcode "SU52" from sap command field.

Step 2 : – On maintain user profile screen, choose parameters option.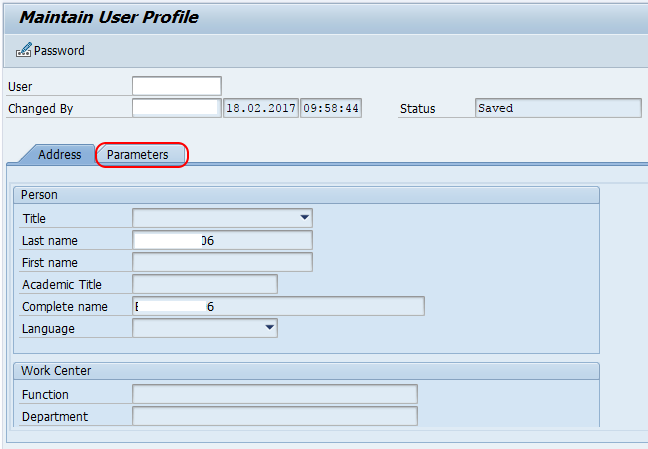 Step 3 : – Now click on the option "Insert in new row" and update the following details.
Set/get parameter ID: – Choose MOL (Personnel country grouping) from the list. MOL is a technical field for country grouping.
Parameter Value : – Update the parameter value as "40".

Click on save button and save the configured details.
Another way to maintain user parameters in SAP
From SAP Easy Access screen, System => User profile => Own data

Choose parameters

Now choose insert new row and enter the details as we discussed above.

Choose save button from toolbar and save the configured details.
Successfully we have maintained user parameters in SAP system.