Configurations in Tally ERP 9: The F12: Configuration in Tally.ERP 9 is applicable for all the companies that located in Tally.ERP 9 data directory. The F12:Configurations may vary from menu to menu, for example if you press F12: Configuration from voucher screen the respective screen displays on the screen.
How open Configurations in Tally ERP 9
Gateway of Tally –> Press function key F12 or click on F12:Configure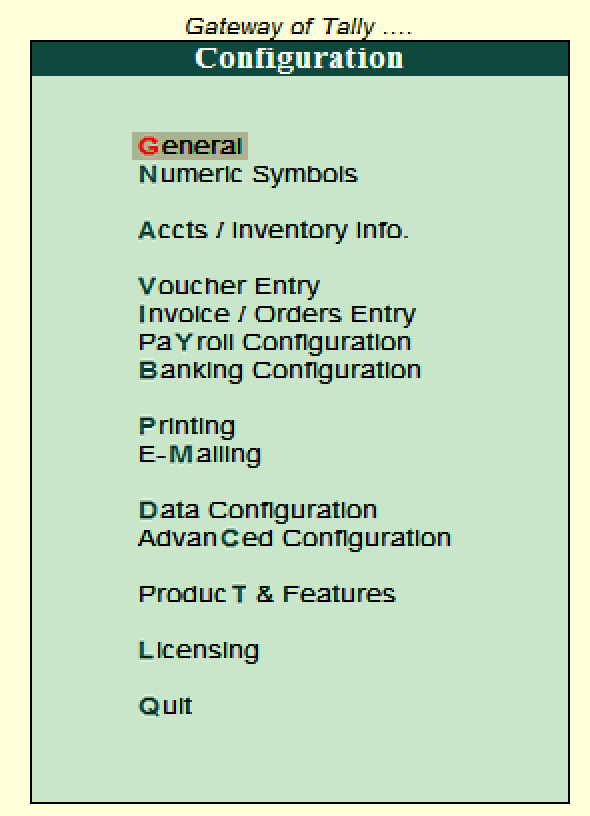 The configuration screen contains multiple settings that helps to configure the required information for master creation, voucher entry, banking, printing, etc. The important settings that available on configurations screen are
General
Numeric Symbols
Accts/ Inventory info
Voucher entry
Invoices / Orders entry
Payroll Configuration
Banking Configuration
Printing
E-mail
Data configuration
Advanced configuration
Product T & Features
Licensing
General: Under General configuration screen, you can configure the details of country, name style, format of dates, format of number, Table configuration, Import/export configuration and other options.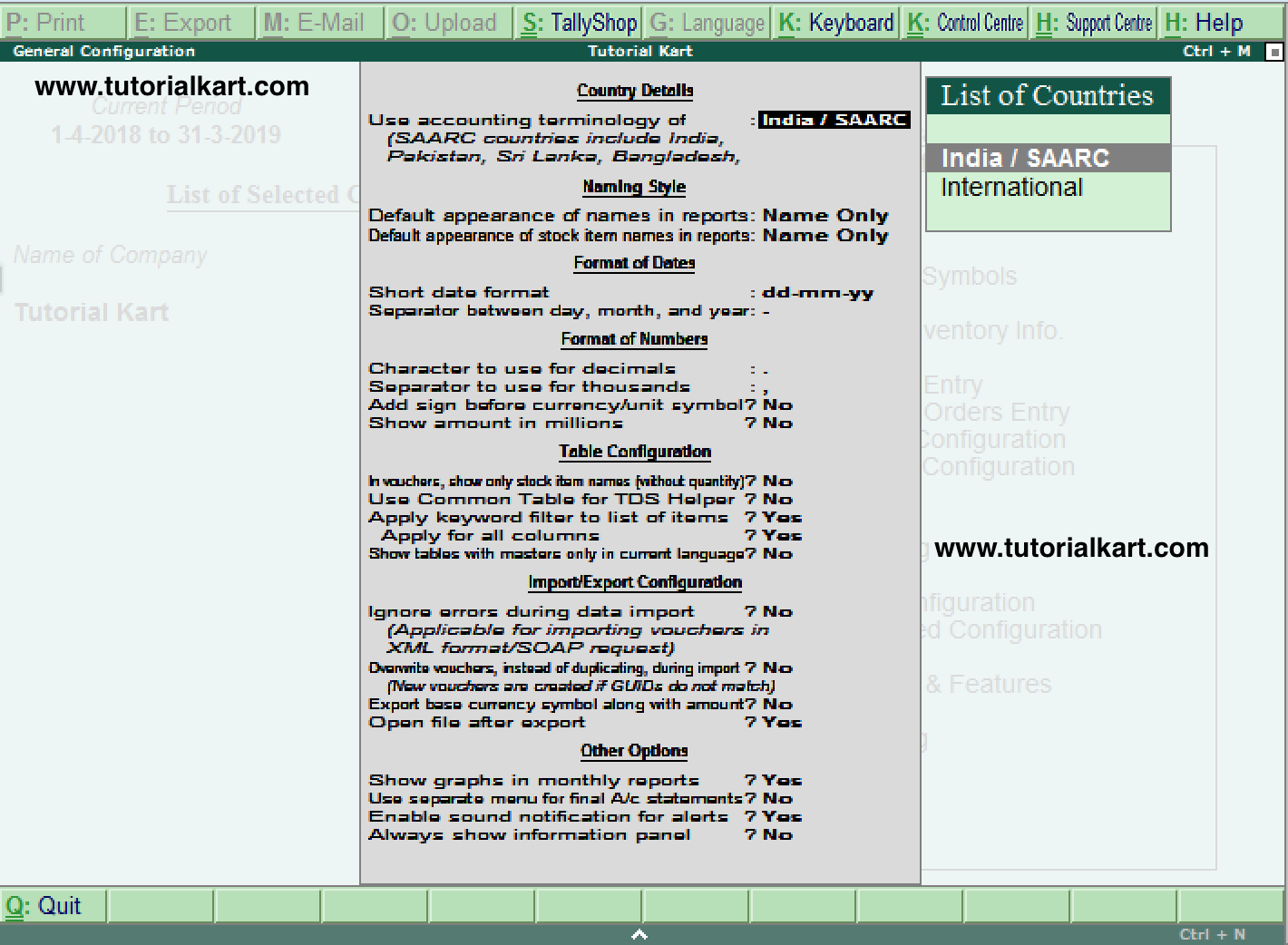 Numerical Symbols: Numerical symbols contains configurations of
Symbols to use for positive numbers
Symbols to use for negative numbers
Symbols to use for debit amount
Symbols to use for credit amount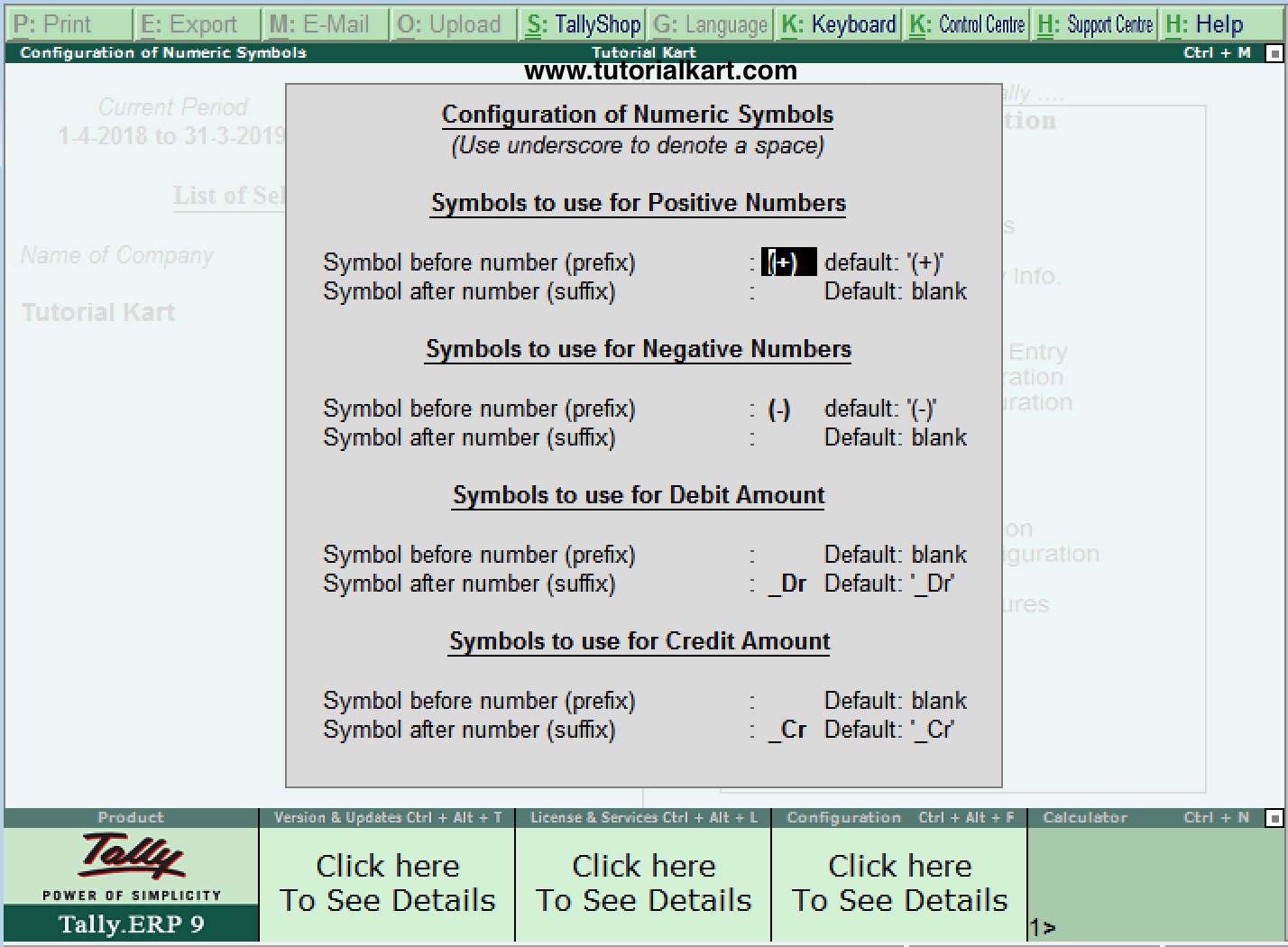 Accts/ Inventory Info: Accounts and Inventory information contains the configuration details of
Master data
Accounts and
Inventory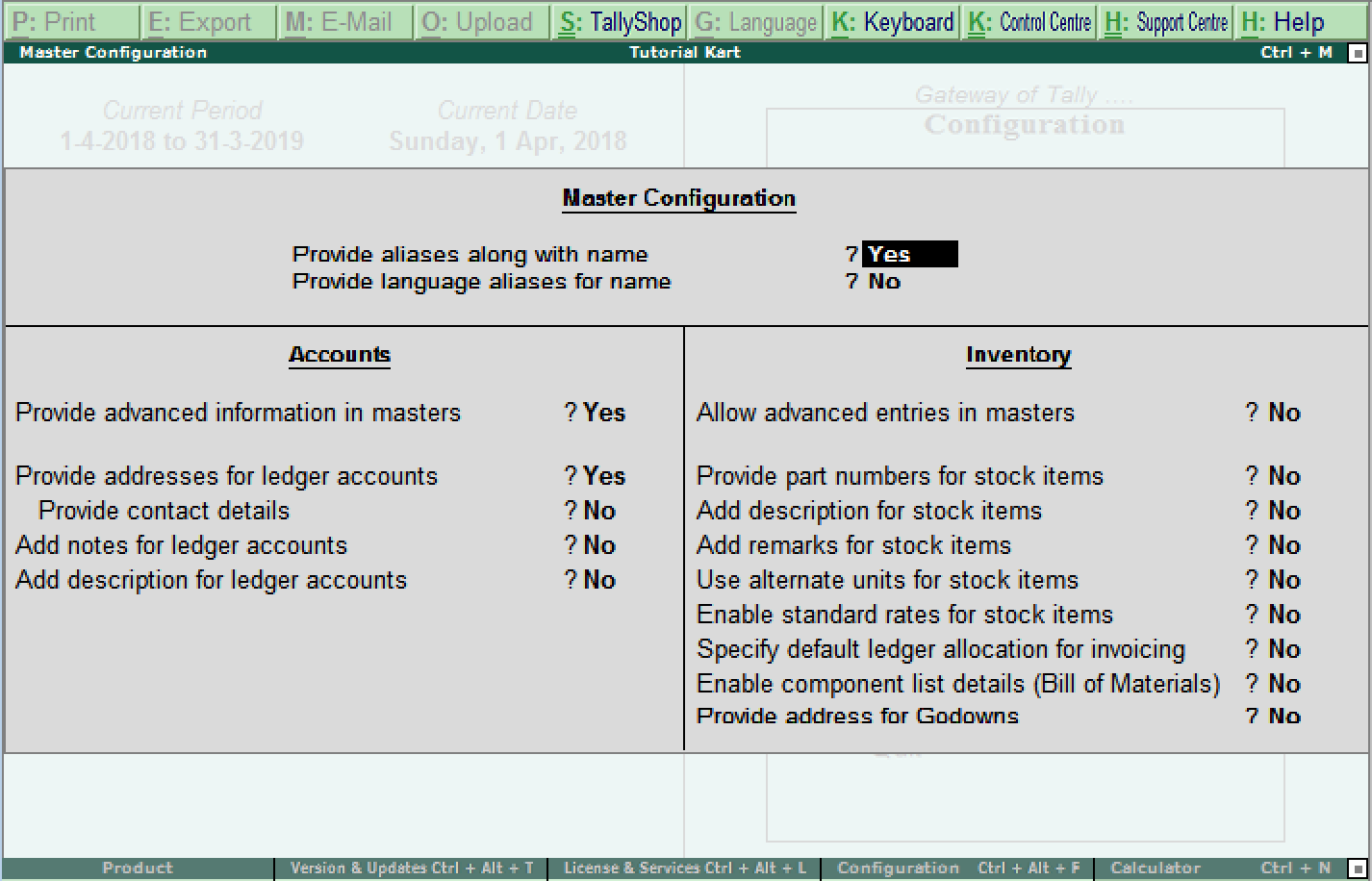 Voucher Entry: Voucher entry contains the configuration details of
Accounts
Inventory
Statutory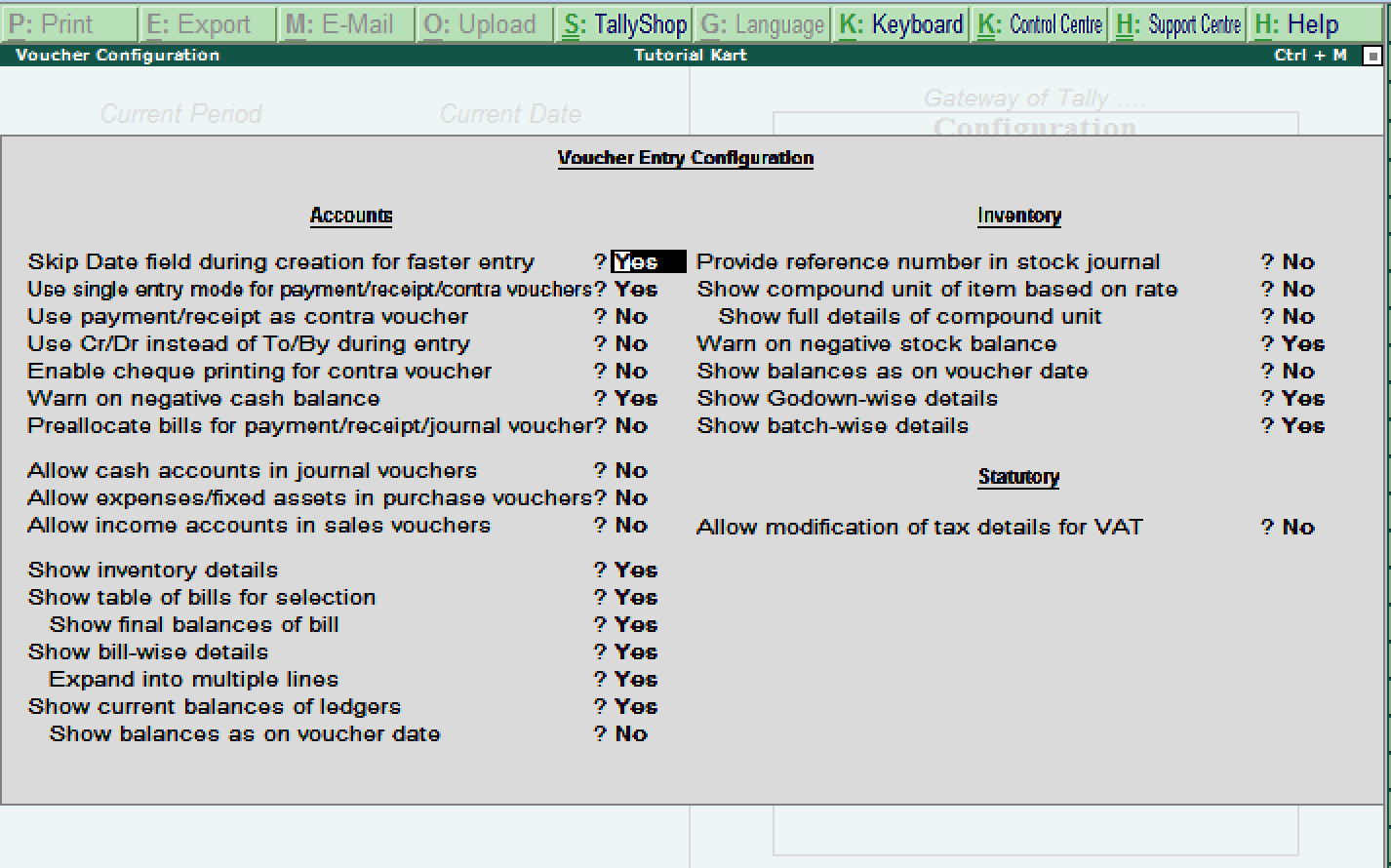 Invoice / Order Entry: Invoice and order entry contains the configuration details of voucher entry for
Accounts
Inventory
Statutory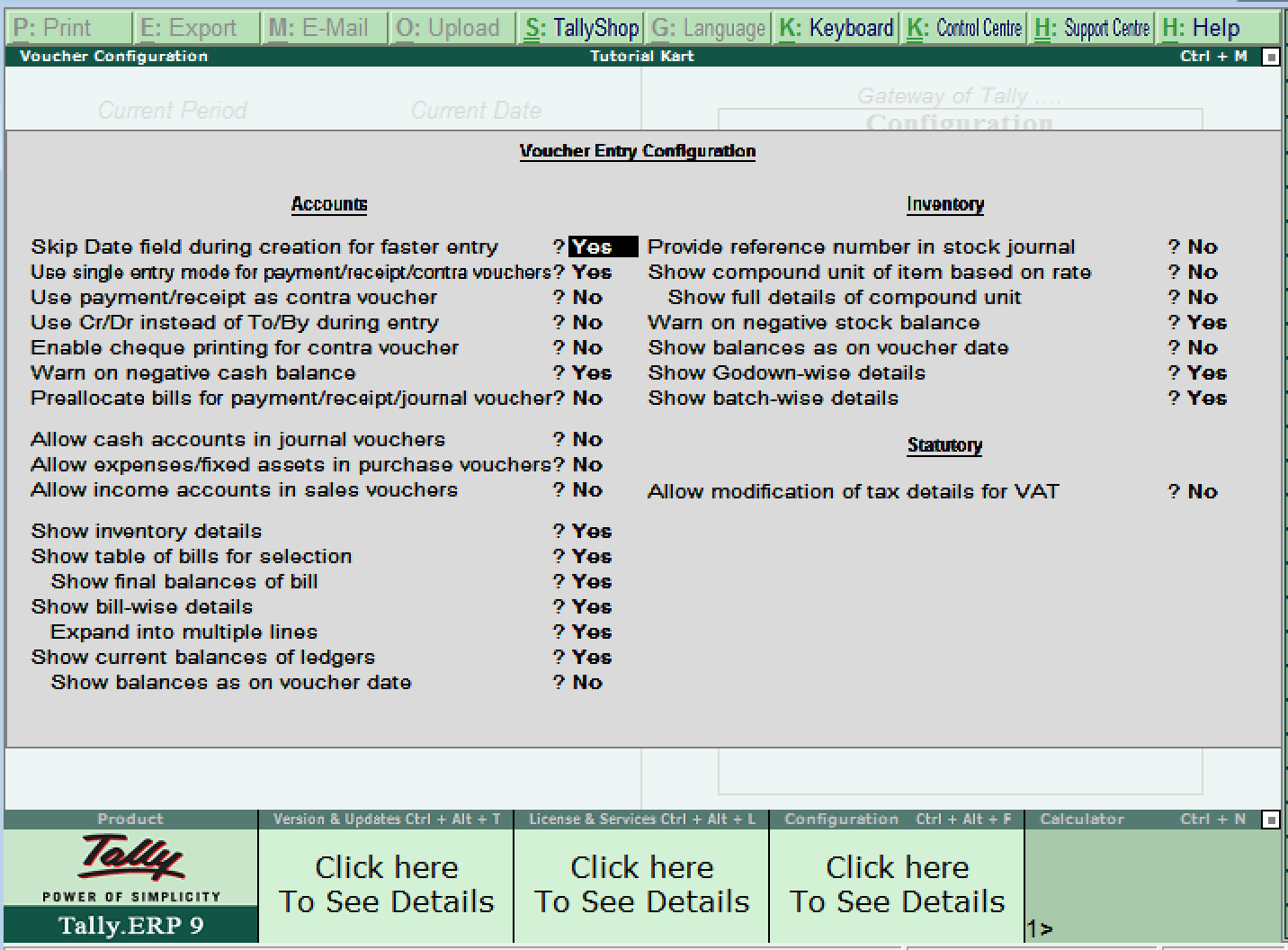 Payroll Configuration:Payroll configuration contains the details of
Add notes for employees
Show statutory details
Provide passport and visa details
Provide contract details
Show resigned/retired employees
Show employee display name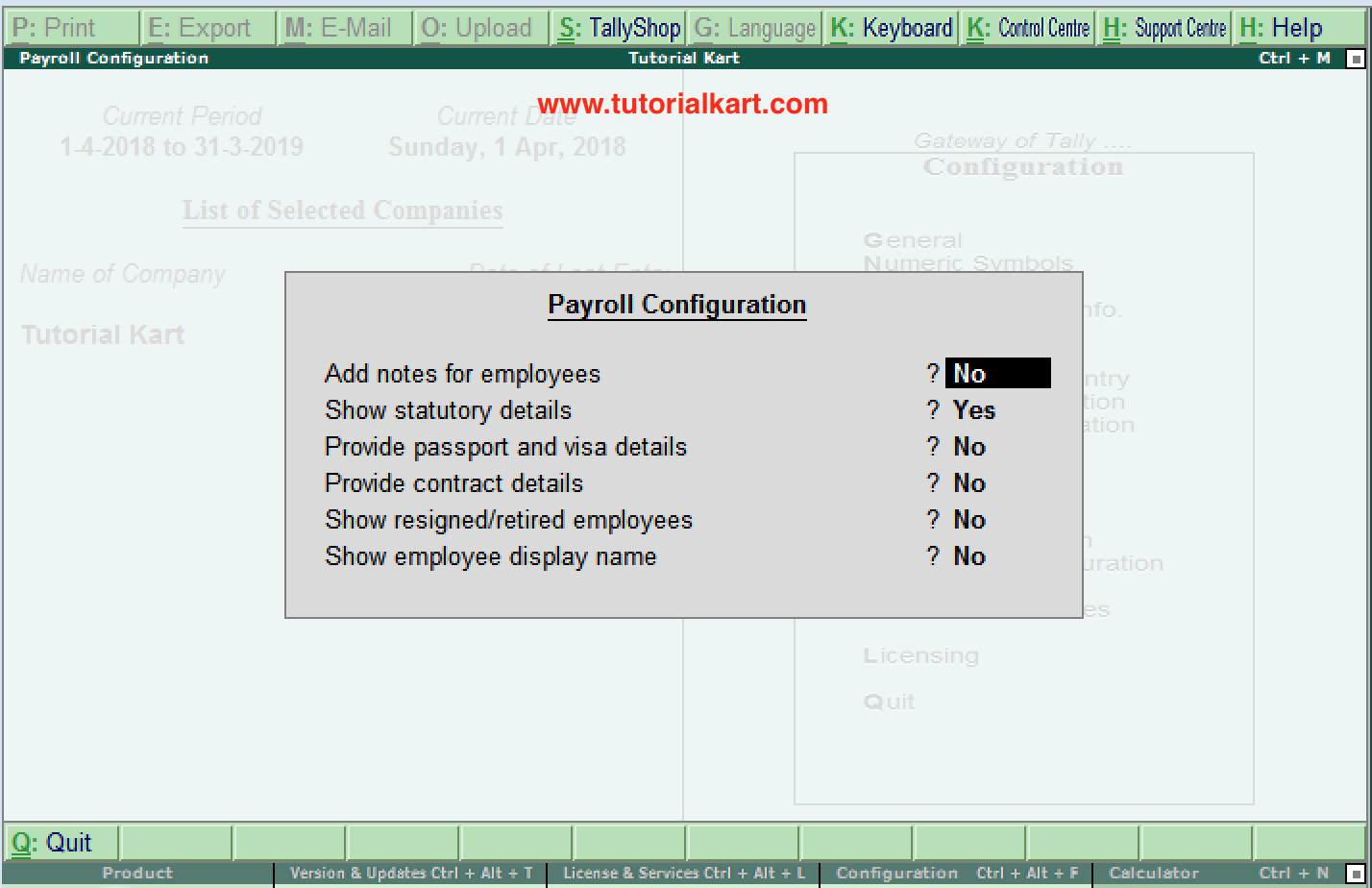 Banking Configuration: It contains the configuration details of
Show all reconciled transactions in BRS till date
Remove bank date on altering reconciled voucher
Location of new bank statements
Location of imported bank statements
Location of payment instructions
Show details before export/upload
Allow reset on the upload transactions
Location of new intermediate files
Location of imported intermediate files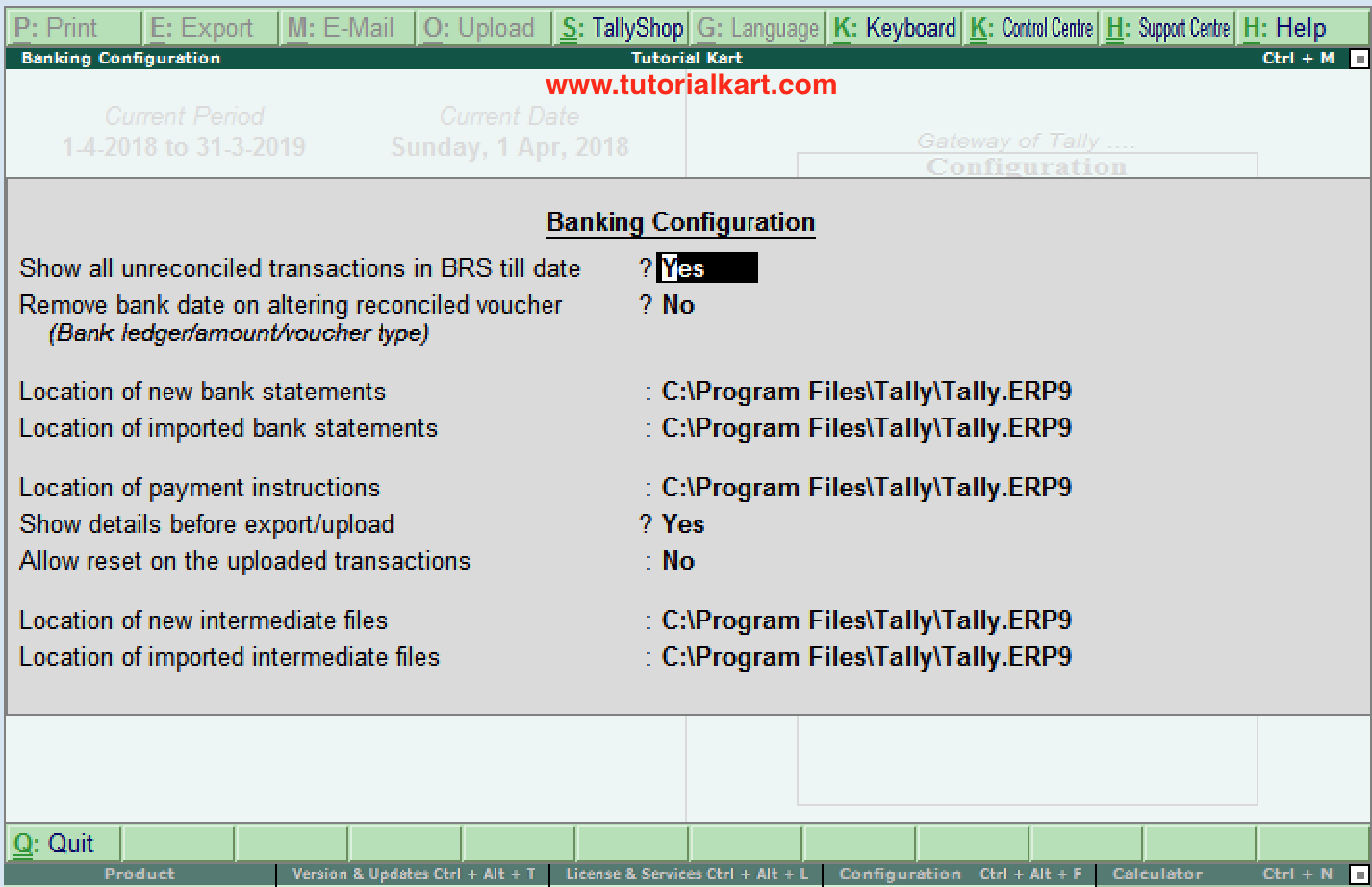 Printing: This configuration helps to configure the printing screens for
Purchase transaction
Payment Vouchers
Sales transactions
Receipt Vouchers
Journal / Contra
Debit / Credit note
Reminding letters
Confirmation statements
Payment advice configuration
Payroll
Advanced configurations
E-Mail: This configuration helps to setup the e-mail server of company.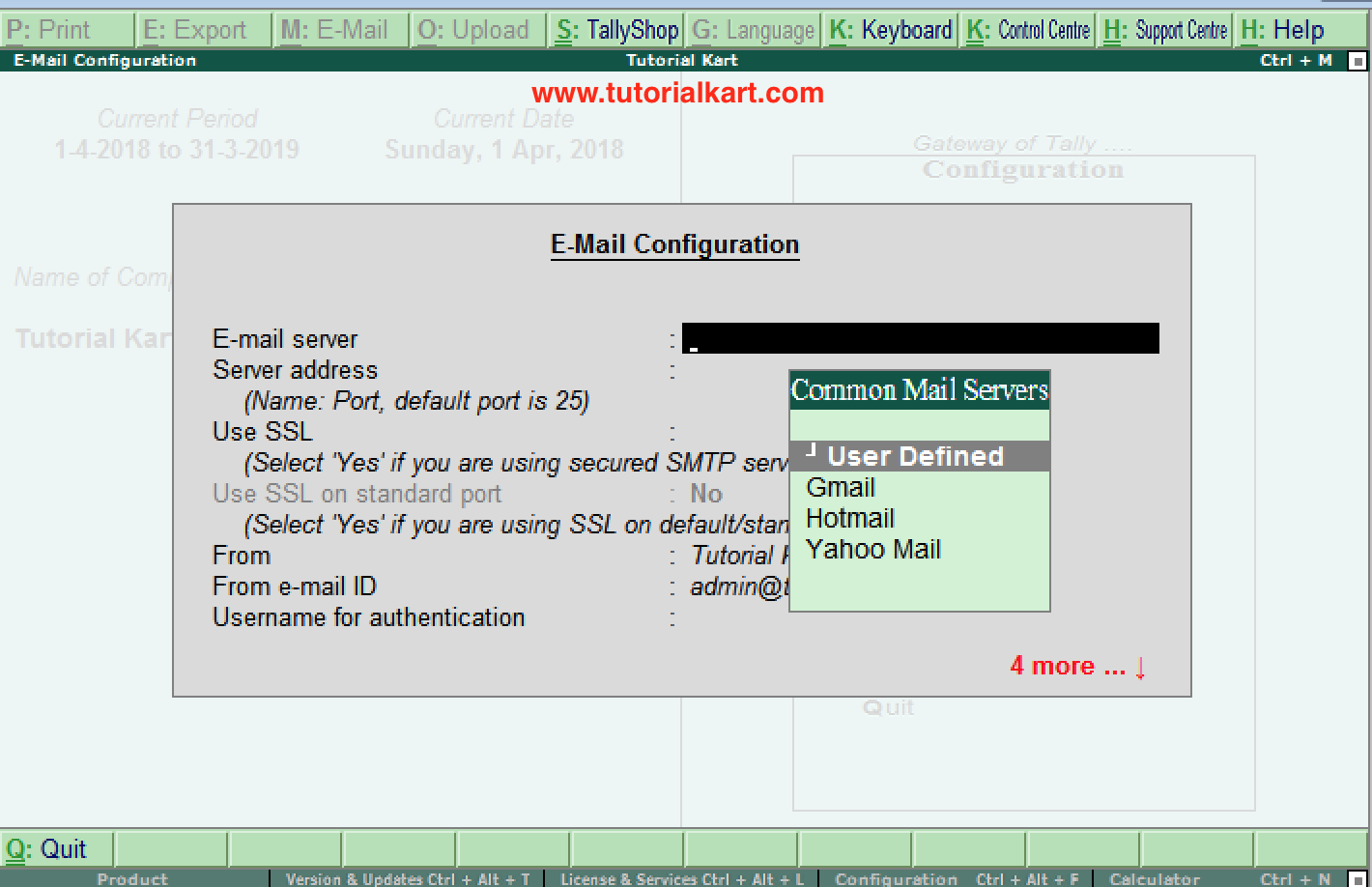 Data configuration: This configuration helps to define
Location of data files
Location of export files
Load companies on start up
Select companies to preload on startup
Location of language file
Location of configuration file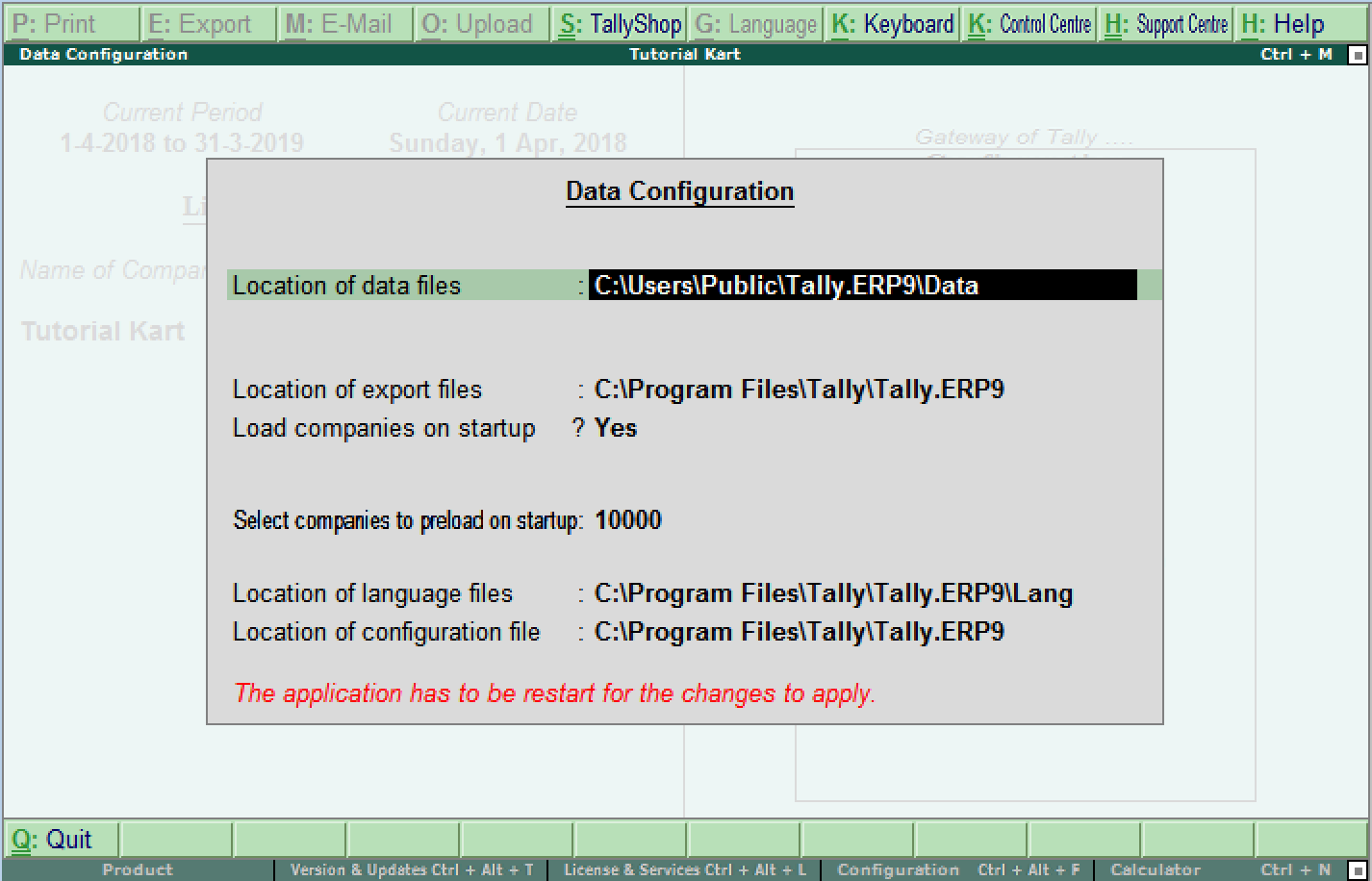 Advanced Configuration: This configuration helps to define the client / server configuration such as
Tally.ERP 9 acting as
Enable OBDC server
Port number
Connection Configurations
Log Configuration
Tally.server 9 configuration
Tally.Net server proxy configuration
Gateway proxy configuration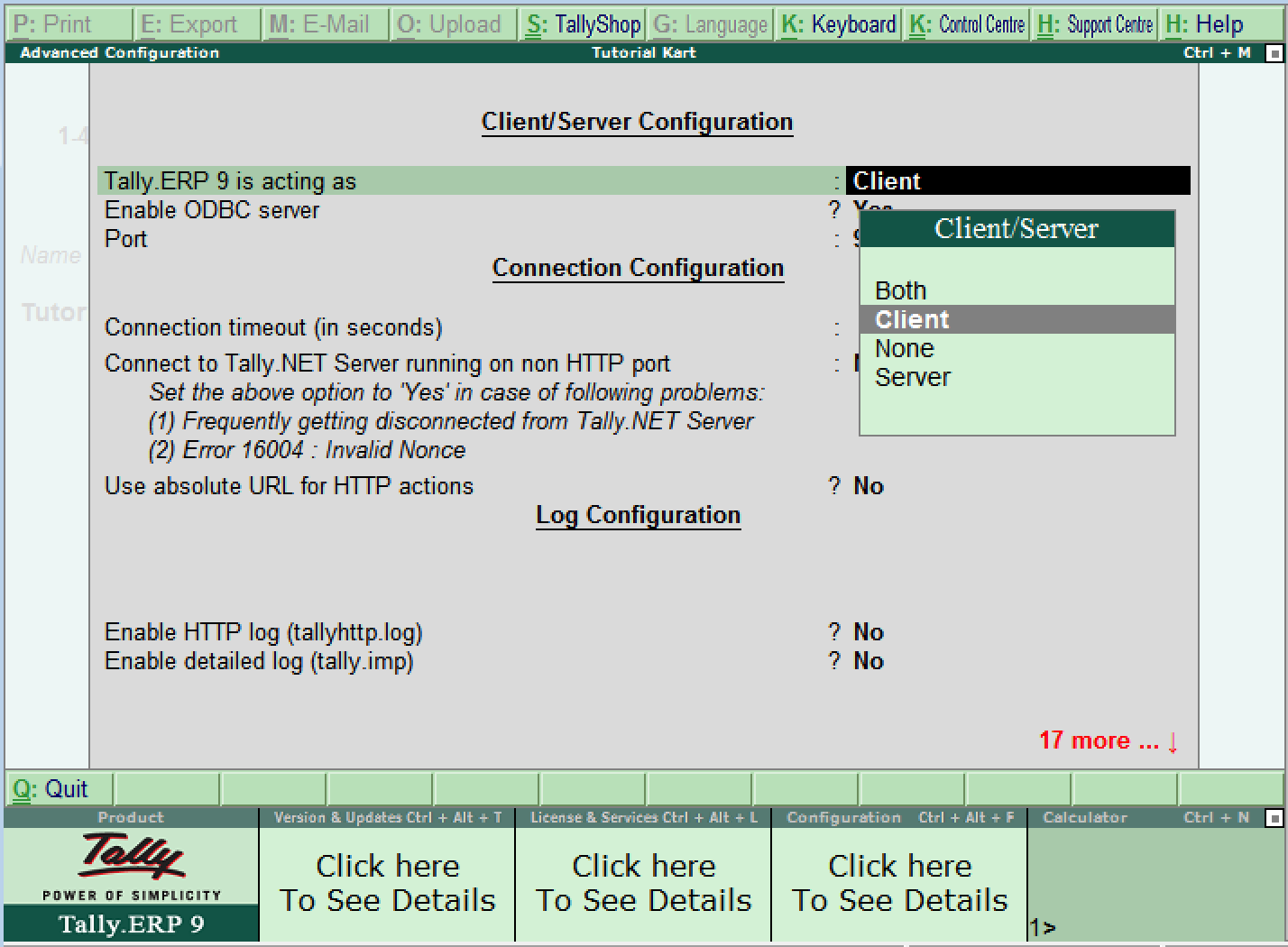 Licensing: This configuration helps to update the details of Tally license
Activate License
Reactivate License
Configure existing License
Get a Rental License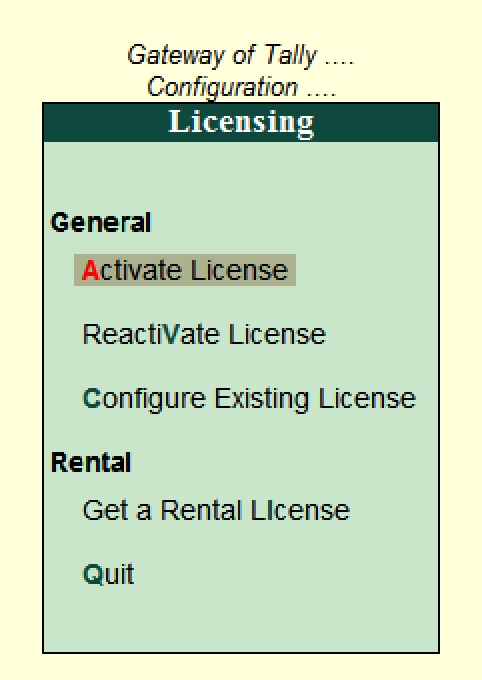 After configuring all the required details, restart the Tally application to reflect the settings based on the updated configurations in Tally.