In this SAP SD tutorials, you will learn how to assign schedule line categories in SAP step by step using tcode VOV5.
How to Assign Schedule Line Categories in SAP
When you are processing sales documents, the SAP system automatically determines a corresponding schedule line category for the items. You can allocate a schedule line category to a item categories on the based on Material Requirement Planning (MRP) specified in the material master record for a material.
Navigation Path
| | |
| --- | --- |
| SAP R/3 Role | Assign schedule line categories |
| Transaction Code | VOV5 |
| SAP IMG Path | SPRO -> SAP Reference IMG (F5) -> Sales and Distribution -> Sales documents -> Schedule lines -> Assign schedule line categories |
Step 1 : – Enter Tcode "VOV5" in the command field and enter.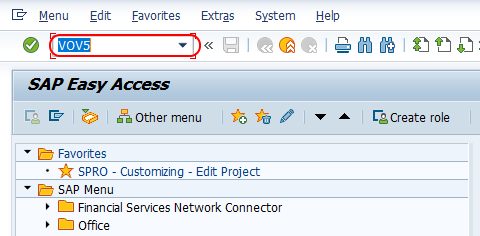 Step 2 : – On change view "Assign schedule line categories" overview screen, displays list of available entries such as item categories and schedule line categories. Click on new entries button and assign the schedule line category to the item category and MRP type.

Step 3 : – On new entries assign schedule line categories screen, update the following details.
Item Category : – Update the item category key which you need to assign a schedule lines. In our case, the item category is ZSTD
MRP Type : – Update the material requirement planning type, in our case MRP type is ND (No material requirement planning)
PrpSchdLneCat: – Update the proposed proposed scheduled line category key, in our cased it is AT.
ManSchedLineCat: – It represent manual schedule line category, update it if required. This can be replace with the schedule line category in the sales documents.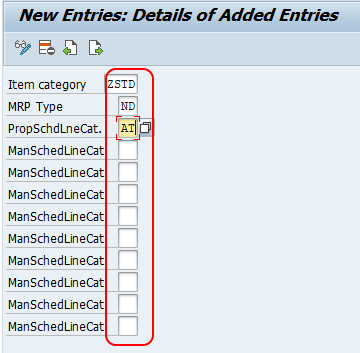 After maintaining all the required details, click on save button and save the configured scheduled line category assignment details. You can view the newly assigned schedule line categories in the change view assign schedule line categories overview screen.
Successfully we have assigned scheduled line categories in SAP system