In this SAP tutorials, you will learn what is an item category and how to customize new item categories in SAP SD. using transaction code VOV7. Before configuration of item categories, let discuss briefly about item category.
What is an item category?
An organization segregate the goods and services in to various categories such as item price, standard items, item discounts, etc. These categories under which items are placed are called as item categories.
Purpose of Configuration
In this activity you define item categories that determines how the items will behave within a sales document. The item category with sales document type controls the flow of a sales documents.
Configuration Values
| | |
| --- | --- |
| Item Category | Description |
| ISTD | Standard Items |
| IFRE | Free Items |
How to create item categories in SAP
Standard SAP system delivers with various predefined item categories, you can use this predefined item categories as per your requirements. If required you can create new item categories in SAP as per the requirements of project.
Navigation Path
| | |
| --- | --- |
| SAP R/3 Role Menu | Create item category |
| Transaction Code | VOV7 |
| IMG Path | SPRO > IMG > Sales and Distribution > Sales > Sales Documents > Sales Document Items > Define Item Categories |
Step 1: – Enter T-code "VOV7" in the SAP command field and enter.

Step 2 : – On change view maintain item categories overview screen, displays the list of existing item categories. Click the new entries button to create new item category as per client requirements.

Step 3 : – On new entries item category screen, update the following details.
Item Category : – Update the key that identifies an item item category in SAP.
Update the name of item category.
Update billing relevance as A ( Delivery related bulling document) and for Pricing as X (Pricing standard).
Choose check option for business item, Scheduled line allowed, Wght/Vol.Relevant, Credit active, Determine cost.
Update other required fields as per requirements of business.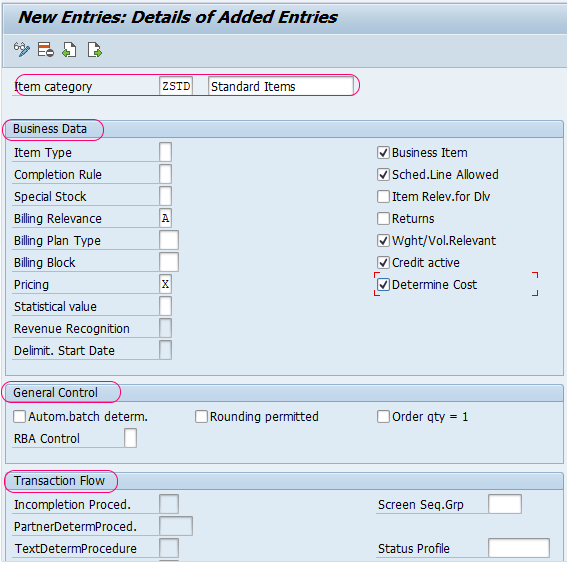 After maintaining all the required details of item category, choose save button on the standard toolbar and save the configured item categories in SAP.