In this SAP tutorials, you will learn what is condition type and how to define condition types in SAP SD using tcode V/06.
What is condition type in SAP
Condition type is a technique that controls the price components or price elements in SAP. In a real time business scenario, the entire pricing can be divided into four elements i.e
Basic Price
Discount/Surcharge
Tax
Freight
There can be different types condition types for each type of price element. each pricing element has its own functionalities and usage in the SAP system, and we need to define corresponding condition types with the respective functionalities.
How to create condition types in SAP
Navigation
| | |
| --- | --- |
| SAP R/3 Role Menu | Maintain condition types |
| Transaction code | V/06 |
| SAP IMG Path | SPRO(Tcode) -> Implementation Guide for R/3 Customizing (IMG) => Sales and Distribution (SD) => Basic functions => Pricing => Pricing control =>Define condition types => Maintain condition types. |
Note : – SAP system delivers various predefined condition types and you use this types as per your requirements. However you can define new condition type in SAP as per requirements of client using option new entries or copy as option.
Step 1 : – Enter Tcode "V/06" and enter.

Step 2 : – On change view conditions: condition types overview screen, choose new entries button and update the following details.
Condition type : – Update the key that identifies as condition type in SAP and update the descriptive text of condition type.
Access Sequence : – Update the corresponding access sequence key of the condition type.
Condition class : – It determines the structure of condition type and allows to control each condition type as per its functionalities.
Plus/minus : – This filed for discounts and surcharges, if you enter negative (X), then it becomes discount. If you choose the value as positive (A), it becomes surcharge.
Calculation type : – It determines how the condition amount of condition type is to be calculated.
Condition category : – It specifies the classification of different condition types.
Scale basis : – It specifies how the scale amount of condition type is calculated.
Check value : – Specifies the scale rates to be entered as per ascending order or descending order.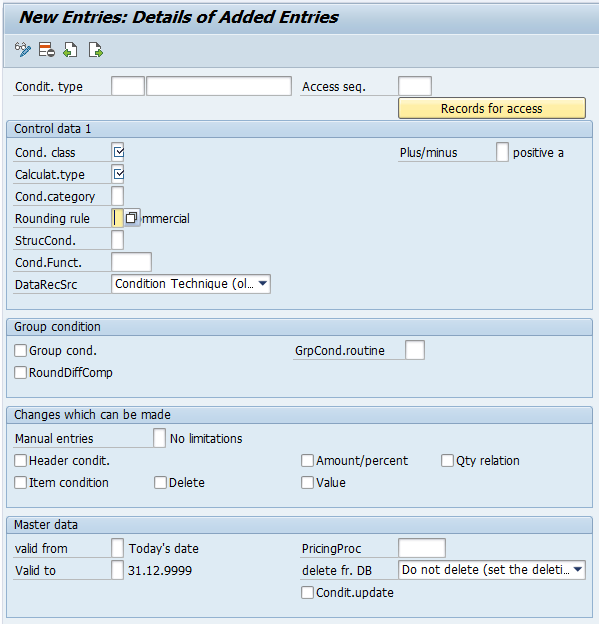 Click on save button and save the configured condition type details in SAP.
Define condition type with reference of standard condition type
You can create new condition type by coping the standard condition type, so the all the settings of predefined condition type are copied to new condition type.

Update new condition type and description and press enter to continue.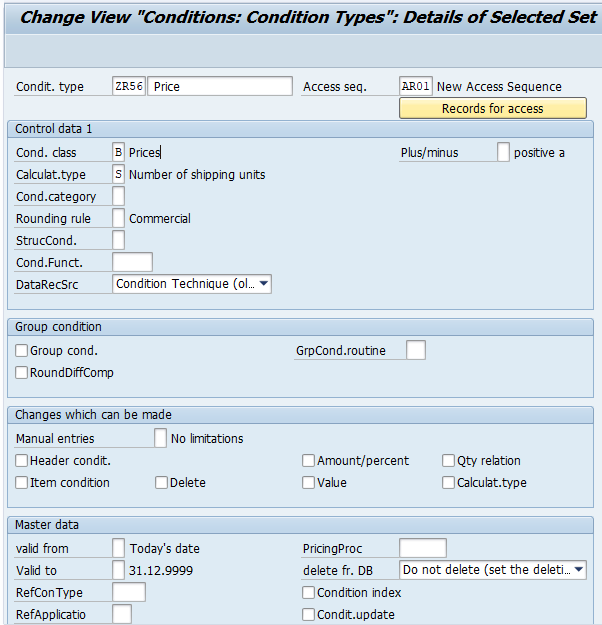 Click on save button and save the condition type in SAP.