Learn what is credit group and how to define credit groups in SAP SD step by step using transaction code "OVA6".
What is credit group in SAP?
Credit group determines which transaction are to be blocked for processing if the credit limits are exceeded. Credit groups are used to group various business documents like sales order, quotations, etc. The credit limit check is processed on the basis of data available in these documents and helps in determining the amount of credit limit that can be assigned.
Configuration values
We are going to define the following credit groups in SAP
| | |
| --- | --- |
| CG | Document credit grp |
| T1 | Credit group for Sales order |
| T2 | Credit group for delivery |
| T3 | Credit group for goods issue |
How to define credit groups in SAP SD
You can define or create credit groups in SAP using one of the following navigation method.
Navigation
| | |
| --- | --- |
| SAP R/3 Role Menu | Create credit groups |
| Transaction code | OVA6 |
| SAP IMG Path | SPRO => IMG => Sales and distribution => Basic functions => Credit management and risk management => Credit management => Define credit groups |
Step 1 : – Execute Tcode "OVA6"

Step 2 : – On change view "Credit groups transaction types overview screen, choose new entries button for defining new credit groups in SAP as per the requirements of client and project.

From credit group new entries screen, update the following details.
CG : –Update the two digits key that defines as credit group in SAP
Document credit group : – Update the descriptive text of credit group key that displays in SAP system.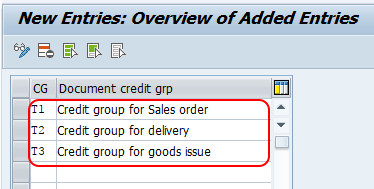 After creation of all required credit groups, choose save button for saving the details. Now the system prompts for the customizing request, choose customizing request ans save the configured details in SAP system.