In this SAP SD tutorial you will learn how to create sales order reasons step by step using Tcode OVAU.
How to define sales order reasons in SAP
What is Sales Order Reason?
Order reasons are parameters that determines the reasons that make the customers to place an order in an organization. For e.g. Some of order reasons are newspaper advertisement, Television advertisement, discounts, etc.
Purpose of Configuration
In this activity you will create an order reason code and specify this order reasons in the sales document. Sales order reasons in SAP helps in generating sales statistics based on specific advertisement.
Configuration Values
| | |
| --- | --- |
| Order Reason | Description |
| TDV | Television Advertisement |
| NAV | News Advertisement |
Navigation path
| | |
| --- | --- |
| SAP R/3 Role Menu | Define Order Reasons |
| Transaction Code | OVAU |
| SAP IMG Path | SPRO > IMG > Sales & distribution > Sales > Sales documents > Sales document header > Define order reasons |
Sales Order reason Configuration steps
Step 1 : – Enter Tcode "OVAU" in command field and enter.

Step 2: – On change view "Sales documents: order reasons" overview screen, choose new entries button for creation of new order reason as per requirements of project.

Step 3: – On new entries order reasons screen, update the following details.
Order reason : – Enter the three digits key that identifies the sales order reason in SAP system. In our case order reason is TDV. The order reason number should be unique for order reason.
Description: – Update the descriptive text of order reason. In our case order description television advertisement.
R : – If order reason for retro billing, than update specific key the from the given list.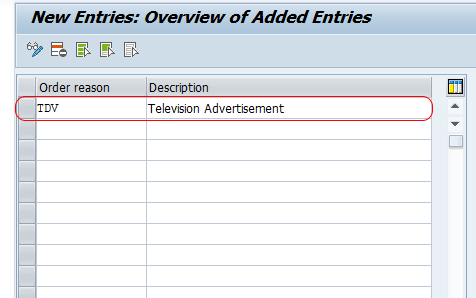 Click the save button in the standard toolbar to save the created order reason in SAP. You can see the newly created sales order reasons in the change view sales documents: sales order overview screen.
Successfully we have created new sales order reason TDV in SAP system.