In this SAP tutorials, you will learn how to define schedule line categories in SAP SD step by step using Tcode VOV6.
How to create schedule line categories in SAP
The schedule line category controls the data that need to be processed at schedule line level in the sales documents.
What is schedule line?
A schedule line in a sales document helps you specify the date and quantity of items to be delivered on specific date. For e.g. You have an order of 100 products to be delivered on specific dates, out of 100 products you need to deliver 50 products on a specified date and time. Schedule line helps you to deliver the products on a specific date and time. Based on the assignment of item category to schedule line, the SAP system automatically delivery the data from sales document to delivery document.
Purpose of Configuration
In this step you need to define different schedule line categories with the corresponding functionalities to be used in the respective sales documents.
Schedule line category configuration steps
Navigation path
| | |
| --- | --- |
| SAP R/3 Role Menu | Maintain schedule line category |
| Tcode | VOV6 |
| SAP IMG Path | SPRO ? SAP Reference IMG ? Sales and Distribution ? Sales > Sales Documents ? Schedule lines ? Define schedule line categories. |
Step 1: – Enter transaction code VOV6 and press enter.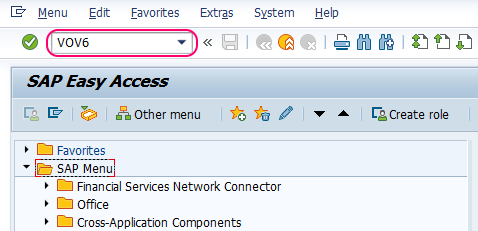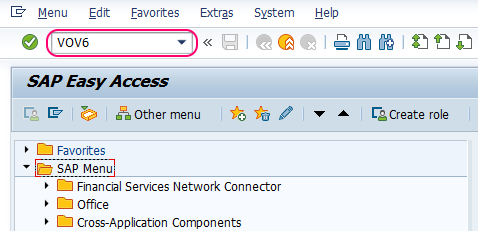 Step 2 : – A new window: change view "Maintain Schedule Line Categories overview opens on the screen, click on new entries button to create new schedule line category as per the client requirement.


Step 3 : – On new entries schedule line categories screen, update the following details.
Sched.line cat : – Update the two digits key the identifies the schedule line category in SAP.
Description : – Update the description of schedule line category.
Delivery block : – It specifies the whether the item is blocked for delivery.
Movement type : – It specifies the physical or logical moment of materials.
Item relevant for delivery : – If you check this option, the items becomes relevant for delivery.
Order Type : – It determines the document type "NB" to create the purchase requisition (PR) in SAP.
Requirement/ Assembly : – If you select this field, the ordered quantities item will be transferred from SD to IM (inventory management).
Availability : – By choosing this option, the SAP system carries out availability check for the items in the sales documents.
Product allocation : – If you choose this option, product allocation will be activated for the items in the sales documents.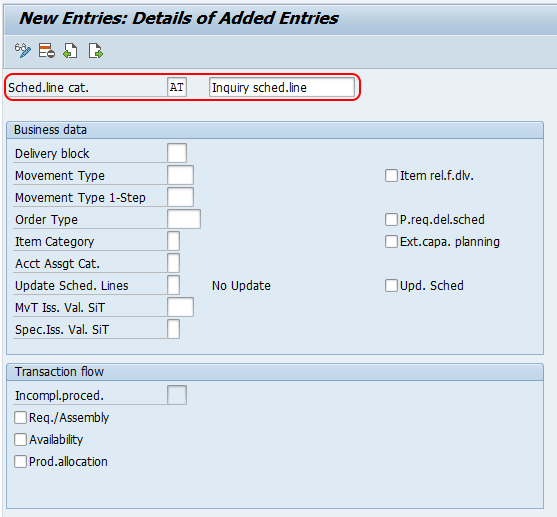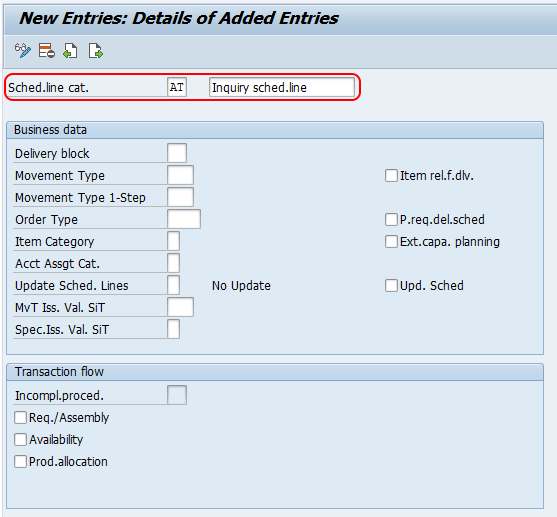 After maintaining all the required details, click on save button and save the configured schedule line categories in SAP.