In this SAP tutorials, you will learn how to assign item categories in SAP SD step by step using transaction code VOV4.
Assign Item Categories in SAP
After configuration of item categories in SAP, you have to assign item categories to a sales document types. During the sales documents processing, the SAP systems automatically specify a corresponding item category for the items.
Purpose of Configuration
In this step you assign item category to sales document types. The link between item categories and document types are established through this assignment process.
Navigation Path
| | |
| --- | --- |
| SAP R/3 Role | Assign Item Categories |
| Transaction Code | VOV4 |
| SAP IMG Path | SPRO > SAP Reference IMG > Sales and Distribution > Sales > Sales Documents > Sales Documents Item > Assign Item Categories. |
Configuration steps
Step 1 : – Enter Tcode VOV4 in the SAP command field and enter.
Step 2 : – On change view item category assignment overview screen, click on new entries button and assign the item category with the combination of SaTy (sales document types), itCGr (item category group), Usg. (usage) and HLevItCa (higher level item category).

Step 3 : – On new entries item category assignment screen, update the required details like sales document type and item category for assignment of item category to a sales document type.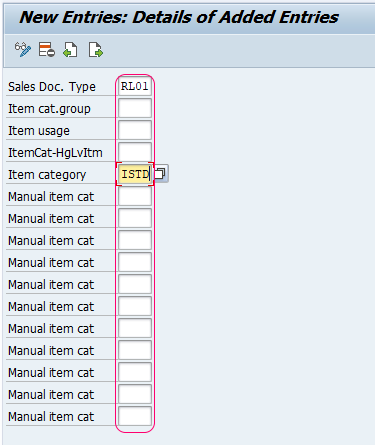 After updating all the required details, click on save button and save the configured assignment item category details.
While assigning the item category, whatever the item category is assigned as manual item category, you can replace with default item category in the sales documents.