Salesforce Lightning experience is a modern, fast, and intelligent user interface built with proven Salesforce1 Mobile App technology. It combines Lightning Designing System (LDS), Lightning app builder and Lightning Components to create modern enterprise applications. Salesforce Lightning experience is a new generation productive user interface designed for Sales team and Support teams in Salesforce.com. Salesforce1 have been introduced for mobile application and two user interface for desktop version Salesforce classic and lightning Salesforce has been introduced by Salesforce.com.
Lightning Experience (or LEX for short) brings with it an entirely new client side architecture, which departs from the server-side rendering for its predecessor (Salesforce Classic) and Visualforce provided. For backwards compatibility, Visualforce UIs can still be used within Lightning Experience, although, using Visualforce in LEX will not offer the level of extensibility or visual appeal as custom UIs built using the Lightning framework.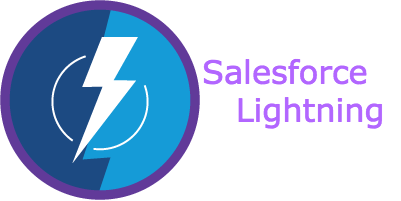 For the first time, Salesforce developers can now use the same technology and theme Salesforce have used to build their LEX based applications, known as the Lightning Framework. Salesforce has also chosen to open source their styling framework used by Lightning, which is known as the Lightning Design System (LDS)
Salesforce lightning Experience Features.
Sales team can close more deals and sell quicker and smarter and support team can close a case faster using various tools and Salesforce Lightning Components. In recent times, mobile usage has been increased drastically and influencing Salesforce user to work on their mobiles. Sales representatives are now using mobile to research potential customers, get the details of nearby customer offices, socially connect with their customers, and even more. So Salesforce synced the desktop Salesforce Lightning Experience with mobile Salesforce1.
Lightning Salesforce is a modern, fast, and intelligent user interface.

It is built with a sales-centric mindset, focusing on helping sales representatives work more naturally on a daily basis.

With Lightning Experience, Salesforce users will get an intuitive and intelligent user interface.

Lightning Experience is built with proven Salesforce1 Mobile App technology.
Sales representatives can use mobiles to enter customers details like log tasks and notes after client meetings, run reports and dashboards and many more. All these features from the mobile is being brought into the computer web browser by Salesforce Lightning Experience.
What we call Salesforce lightning Experience?
Salesforce Lightning Experience is simply referred to as "Lightning". When working with lightning Salesforce we will learn about different Salesforce lightning topics like Lightning Login, Lightning App Builder, Lightning for Outlook, Salesforce Lightning Components, Lightning Sync and many more. Some of them are applicable in Lightning Experience only, but some others will work in both Lightning Experience and older Classic user interfaces. Lightning Sync is used to sync your user contacts and events between your email server with Salesforce
What was before Lightning Salesforce?
Before Salesforce lightning Experience we have Salesforce Classic User interface. Salesforce classic is used by many customer still Salesforce Lightning experience came into existence. To experience modern new features insalesforce.com, it is advised to migrate from Salesforce classic to Lightning Salesforce.
Why should we migrate from Salesforce Classic to Lightning?
Lightning Experience is a modern and intelligent user experience across every device introduced in Summer '16 release. Still so many users using Salesforce Classic. Salesforce urges users and customers to migrate from classic to Salesforce Lightning experience because the lightning user interface is totally different from classic. It has many features and some of your existing customisations may not work, such as the JavaScript button built by your Salesforce partner or your IT team.