What is Chart of Accounts in SAP?
The chart of accounts in SAP (COA) is a group of general ledger (G/L) accounts that records the organizational transactions in a structured way. Each general ledger account consists account number, name and control information.
Types of Chart of accounts
Operative chart of accounts
Country specific chart of accounts
Group chart of accounts
Company codes can follow chart of accounts in two methods.
All the company codes can use same set of accounts, that means account coding is same for all company codes. For e.g. Salary account number. we can easily compare and consolidate.
If each company code following different set of accounts, than we can not directly company and consolidate. By using group chart of accounts, we can compare and consolidate the accounts.
How to create COA in SAP
In this configuration we define
Chart of accounts (COA) code
Description of chart of accounts
Maintenance Language
Length of account number.
You can create chart of accounts in SAP FICO by using one of the following method.
Step 1) Enter T Code "OB13" in the SAP command field and enter.

Step 2) On change view "List of all chart of accounts": Overview screen, click on new entries button to create new COA code as per company requirements.

Step 3) On new entries COA screen, update the following details.
Chart of Accts: – Enter the 4 digits alphanumeric key that identifies the chart of accounts key in SAP (TKCA)
Description: – Update the descriptive text of chart of accounts (Chart of Accounts for TK Software Group)
Maint.Language: – Choose language key from the list (English).
Length of G/L account number: – The company requirements is to maintain their accounts in 6 digits length. So here we need to update 6.
Group chart of accounts: – If company following different set of accounts, than we need to update the group COA for consolidation.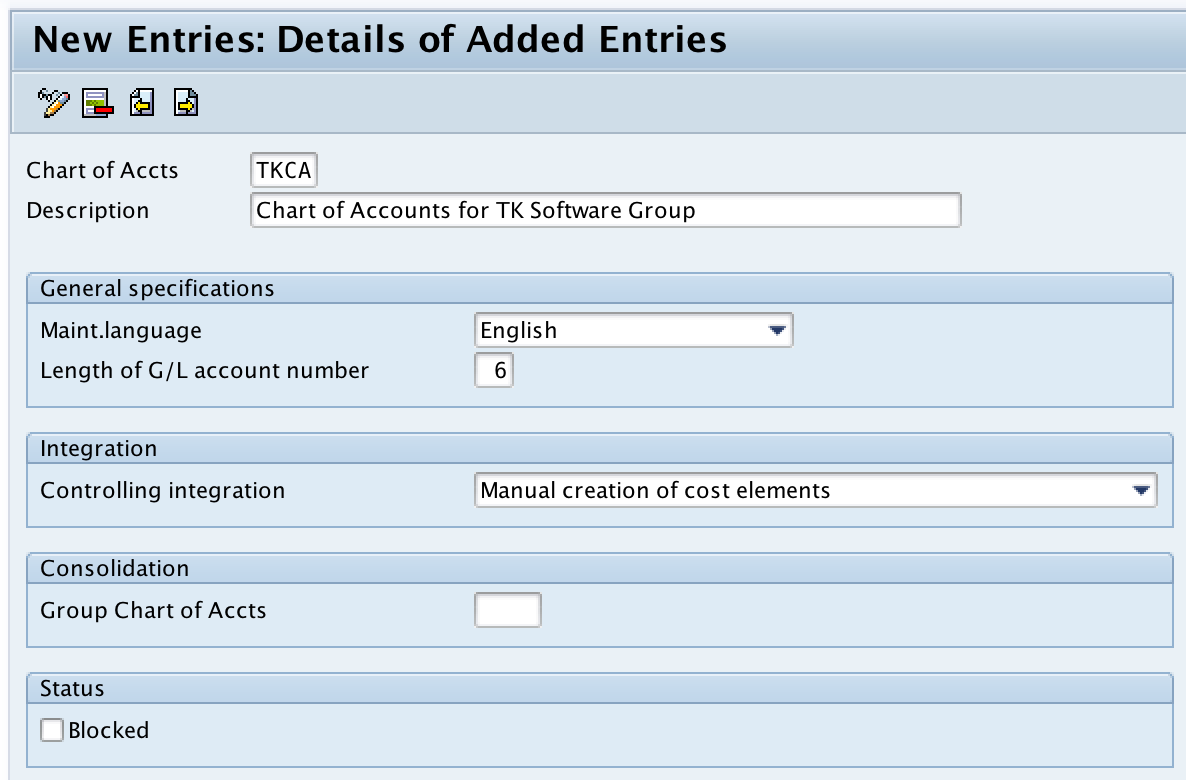 Step 4) Now click on save button and press enter to save in your customizing request number.

Successfully we have created chart of accounts in SAP.