How to Create Bank Key in SAP
In this SAP FICO tutorial you will learn how to create bank key in SAP step by step using transaction code FI01.
What is Bank Key?
Bank key number is optional for country India and mandatory for US. In SAP, bank key consists detailed address information of bank account with account number.
Purpose of Configuration
In this activity, you define bank key that consists bank account address, account number, IFSC code, branch name, etc.
Navigation Path
Step 1 : – Enter SAP Tcode "FI01" in the SAP command field and enter.

Step 2 : – On create bank initial screen, update the following details.
Bank Country : – Update the country key where the bank is located, for e.g. If bank is located in United States enter country key as US, for India update as IN.
Bank Key: – Update the new bank key that you like to create in SAP, you are allowed to updated up to 15 alphanumeric characters.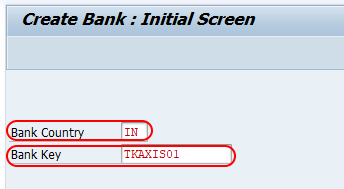 After updating the required details, press enter to continue.
Step 2 : – On create bank detailed screen, update the following details.
Address: Update the detailed address of bank, here our bank is Axis bank which is located at electronic city, Bangalore.
Bank Name : – Enter the name of bank – Axis Bank.
Region : – Update the region key from the list.
Street : – Street address of bank where it is located.
City : – City Name
Bank Branch : – Name of bank branch.
Control data
Swift/BIC : – Update Bank Swift Code
Bank Number : – Update bank account number.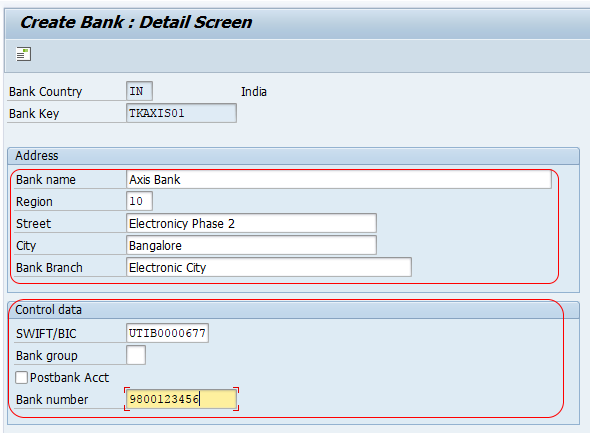 After you update all the required details, click on save button and save the configured bank key in sap system.

Successfully we have created bank key TKAXIS01 in SAP.