In this SAP tutorials, you will learn how to define tolerance groups for G/L accounts in SAP. In our previous training tutorial you have learned how to define field status variants and field status groups in SAP.
What is Tolerance Groups
In real time business scenario, tolerance groups allows the SAP system to process and post the transactions beyond the tolerance groups limits. Tolerances are referred as payment differences, it can be a amount tolerance, percentage tolerance, and debit & credit tolerance.
Also Read: –
How to define tolerance groups for employees.
How to create retained earnings account in SAP
How to define open and close posting periods in SAP
Implementation steps
You can maintain tolerance groups for G/L accounts by using one of the following navigation method.
Step 1) Enter T-Code "OBA0" in the SAP command field and enter.

Step 2) On change view "Tolerance for Groups of G/L accounts in Local currency" screen click on new entries button to define the tolerance groups as per company requirements.

Step 3) On new entries screen, update the following details.
Company Code: – Enter the company code "TK01".
Tolerance group: – Keep it as blank.
Description: – Update the descriptive text of tolerance group for G/L Accounts (Tolerance group for TK01).
Debit Posting: – Give 0 for debit posting and percentage.
Credit Posting: – Give 0 for credit posting and percentage.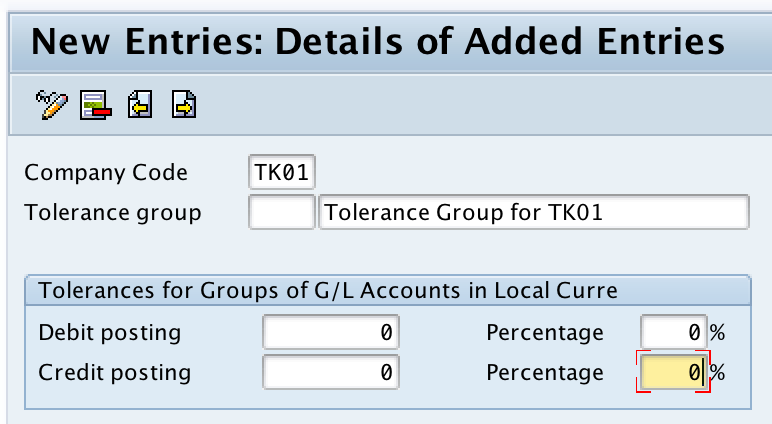 Step 4) Click on save button and save the configured tolerance groups details.

Successfully we have defined tolerance groups for G/L accounts in SAP.